Description
Version 2.0 is now available!
Following feedback from our customers, we continued to source for better products with the highest quality.  Version 2.0 differs as the reverse side of the yoga towel has added anti-slip prints.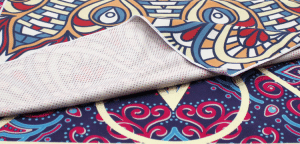 As a reminder, yoga mat towels are not used exclusively for adding cushion but also used for additional grip, surface slip-resistance, and can be folded up to be used for weight support and elevation.
Features:
– Material:  Microfibre (80% Polyester / 20% Nylon)
– Size:  183 x 61 cm
– Weight:  420grams
– Available Design / Colours:  Salutation (Sun), Compass (Blue), Peacock (Green), Elephants (Blue), Mosaic (Exotic), Egypt (Triangle), Sunny Day (Red), Baroque (Blue)